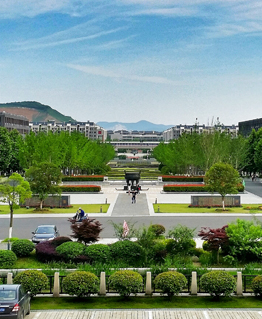 Entrusted by Logistic Service Group of Nanjing University, Zhongxin Hotel Management Consultation Co., Jiangsu is in charge of management of Nanjing University International Conference Center (NUICC). Built by 4-star-hotel standards, NUICC is an integrated building with a variety of functions. It is located on the beautiful Xianlin international campus of Nanjing University. Out of its south side is Yuandong Avenue, across which is the university administrative building. On its west side is Campus Street No. 7, and the Xuanlin Campus Library stands up on the other side of a lake. 0n the north of NUICC is international students' dormitory. On its east is a municipal road, with the campus east gate nearby. NUICC covers an area of 26000 square meters, with a floor space of 65000 square meters. It is 40 meters high, with 9 floors on the ground and 2 floors underground. An investment of 380 million yuan (RMB) has been made totally.
NUICC has 225 rooms and suites of varied styles. These carefully decorated rooms are equipped with HD TV, quality computer and network interactive function. In these highly equipped landscape rooms, you may feel warm and glance at the beautiful scenery of Nanjing University after tiring work. The housekeeping offers a series of services, such as shoe-polishing, daily necessities lending, agent service, etc. All you have here is comfort and close touch to nature.

NUICC also has Chinese and Western restaurants. With a floor space of 1600 square meters, the Chinese dining area includes 15 private rooms and one a la carte restaurant,with 160 seats. The Western dining area (900 square meters) is composed of All-Day Restaurant and Western Restaurant, with a total seating capacity of over 300. They offer multinational flavor food buffet and authentic Western style cuisine. There is a multi function banquet hall on the first floor. With a floor space of 760 square meters, it is an ideal venue for events including conference of different types, Chinese reception, Western cocktail party and wedding banquet. Whether it is a business meeting or dinner, or a private party, we will meticulously design and implement the professional service plan according to the special requirements of the organizer.

NUICC has 12 meeting rooms of large, medium and small sizes, with a total floor space of 1400 square meters. Besides, there are two lecture halls which can accommodate 600 and 100 people respectively. They are equipped with modern multi-media computer projector, internet broadband interface and simultaneous interpretation system, to fulfill special requirements of international conferences. The unique location of NUICC makes it possible for the guests to walk on the campus, breathe in the natural oxygen bar and enjoy the charming scenery around during their leisure time. The conference time becomes more interesting.
NUICC also possesses other supporting facilities, such as Executive Lounge, Lobby Bar, Gifts Shop, Business Reservation, etc. Its central air-conditioning and hot water unit systems are all imported. It also offers optical fiber network system of 100 MW in capacity and spacious underground parking lot.

NUICC adheres to the purpose of serving the people and rewarding the society. Its 5-star service and 4-star facilities will make you feel convenient, comfortable and natural, whether you come here on business or on vacation. Most importantly,you can find the warmth of home here.

NUICC is the best choice for you.